At M C International Links we see work from a pragmatic point of view and have a global approach adquired through many years of work in the community around the world: Latin America, Europe and Africa.
We offer a wide range of services to suit the individual needs, as well as non profitable organisations, governments and companies.
We provide consultancy and holistic frontline solutions i.e project management, volunteering, preparation of the corporate social plan, partnerships procurement, grant writing and training.
Throughout all those years we have been working with different organisations around the globe such as British Embassy, Peruvian Embassy, German Embassy, US Embassy, professional associations i.e.Law Societies in different jurisdictions, Teachers Associations, local councils, as well as third sector organisations, private companies and the academia.
M C International Links believes in voluntary work and is looking for volunteers.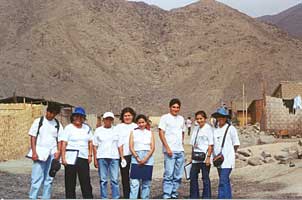 Group of Volunteers from M C International Links. Collanaque, Lima.